Transporting a Manor Modular Home
Everything you need to know
about building a modular home, starts here!
Modular building is the process of constructing a series of 'modules' to make up a complete home in a controlled factory environment. These modules are then transported to a more permanent site, where they are connected and finishing touches made to the home such as paint, fixtures and connections. Modular building is often viewed as a more innovative means of construction when compared to traditional building practices, where a home is constructed onsite in the elements. Let's explore a few reasons why...
There is a lot to be said about the benefits of modular building, where the main comparison to traditional building is the ability to conduct site works and construction simultaneously. Meaning, while the home is being constructed in a factory or warehouse environment, the site works for the project can take place, saving time and money overall.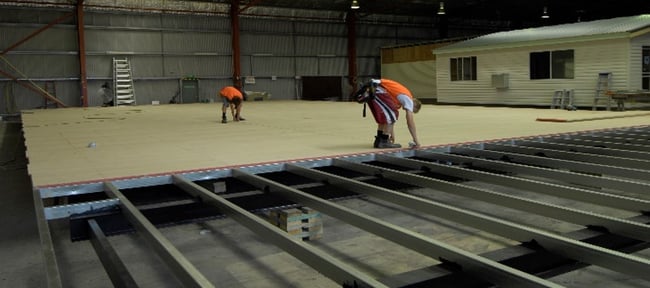 Another key differentiator
is the environment in which the home is built...
Firstly, modular homes are protected from the environment, meaning weather is prevented from causing any time delays or material damages. In addition, the home is built to withstand transport, therefore modular homes are thought to be sturdier than traditional builds due to their steel chassis base and other bracing mechanisms.
Modular construction is typically much faster than traditional methods, this is largely due to process efficiencies as we've discussed, along with the production-line-process employed in factory environments. The modular home is passed down a production line of qualified trades, where different stages of the build are completed.
Steel Chassis base (photo credit: Manor Homes)
At the completion of every stage, strict quality control processes are in place to approve the structure before it moves-on down the line. All material is available in a dry and abundant supply area, making production efficient and reliable so trades can focus on quality.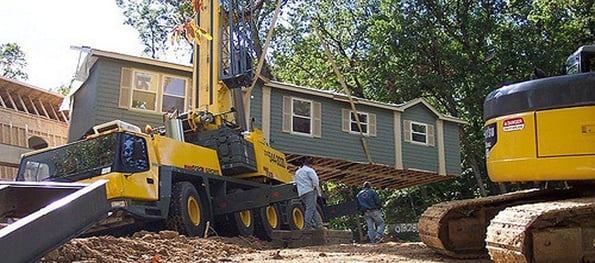 Modular building is fast becoming
the construction method of choice for
reasons far beyond price, time, quality and efficiency!
If you're looking to a build a home, make sure you check out a modular builder near you to see if you have a modular friendly project on your hands. Servicing the Central Coast and Hunter Valley regions, Manor Homes has been building modular country-style homes for more than 25 years, for more information

.